"Absolutely stunning!! watching the finale for sure. Great presentation by @seller once again."
BaT commenter
---
"Best photos I have ever seen on BaT. Well done!"
BaT commenter
---
"Score! That is one heck of a collection from one of the most recognized and respected classic dealers."
BaT commenter
---
" . . . the location and photography steel the show."
BaT commenter
---
"Great looking car and well represented!"
BaT commenter
---
"My experience with Adam and Steve at Mohr Imports was extraordinary. I have never tried to sell a collector car, so I didn't know what I didn't know! They walked me through the process and they handled everything; detailing, photographs, videos, descriptions and responses to inquiries. In the end, I believe that I got a fair deal and so did the buyer! Thanks again!"
Cliff
---
"Kudos to the seller for running a great auction, being honest, and open about things."
BaT Commenter
---
"fantastic seller + fantastic car + fantastic presentation = EPIC RESULT …. every single time glorious car and auction @seller"
BaT commenter
---
"Well presented, as usual, by @mohrimports !"
BaT commenter
---
"Great Seller as we all know"
BaT commenter
---
"That was quite a bidding battle at the end, and with over 40,000 views, it appears that our community enjoyed watching this one as much as we did! If you pick it up in person, make sure to take it up the coast! @MohrImports – Thanks for listing this one with us! -BaT"
Bring a Trailer Auctions
---
"Dealing with Adam was a breeze. He was able to make something very complicated to me and for me seem a breeze. From shipping across the USA to all paperwork. Love the car and all photos and descriptions were accurate. Thanks, Adam, to you and your team."
Gene F.
---
"She got here this morning! Took this pic on the Blue Ridge Parkway. Thanks Adam, She's a beauty."
Gene F.
---
"Hey Adam I'm enjoying watching the spectacular vehicles you are showing on BAT. I have enjoyed the 84 Targa I purchased 15 years ago from you. It exceeded all of my expectations. The success you continue to enjoy does not surprise me in the least!! Cheers,"
Doug C. Vancouver Island
---
"it's nice to see one of BaT's "A-plus" sellers still photographing cars OUTDOORS, in natural light."
BaT commenter
---
"I've bought from @MohrImports. Bid with confidence."
BaT commenter
---
"Good luck bidders – Respected seller @MohrImports"
BaT commenter
---
"Another beauty from Mohr Imports with the added benefit of some lovely additions for one's screensaver."
BaT commenter
---
"Are Porsche 356's synonymous with Monterey/Carmel/Big Sur or is Monterey/Carmel/Big Sur synonymous with Porsche 356's?? Either way, I never get tired of either the vehicles or the coastline. Beautifully presented"
BaT commenter
---
"Hello, we recently purchased a 1949 Chevrolet 3100 pickup via BAT auction and we just wanted to let someone know what a GREAT experience it was! I have been in and around the car/motorcycle business for over 25 years and this was one of the easiest transactions we have ever made, communication from the seller Adam at Mohr Imports was fantastic and made it easy, and they were super helpful regarding transporting the truck to us. The best part of the buy was that the condition of the truck far exceeded our expectations. Great platform and fantastic seller!"
Mike & Francesca
---
"Surely a contender for photos of the year."
Bring a Trailer Auctions commenter
---
"I always look forward to see what MohrImports will list here at BAT. This one doesn't disappoint."
Bring a Trailer Auctions commenter
---
"Adam & Steve sold my 1972 Jaguar XKE V-12 roadster. Their photographer took wonderful pictures of the car and managing it through the sales web site Bring a Trailer answering questions after questions to interested buyers. Good guys, good job and strong price, thanks Adam & Steve."
Bill B.
---
"I was on the hunt for a pristine 987 Boxster/Cayman for a pretty long time (on and off for about 2 years), but nothing had stood out to me until I saw one posted by Mohr Imports online. It was a great, low mileage example with all service records from the dealership and a local independent shop in town. I decided to give Adam a call right before he closed up shop one day to chat about it. Adam took the time to answer my questions and even schedule a weekend visit to check out the car, since I lived about an hour away and wouldn't be able to test drive on a weekday. It was the most pleasant car buying experience I've ever had, and I'm pretty sure I was buying the cheapest car in their inventory! Huge thank you to Adam for the great experience. I appreciate you answering the millions of questions I had, and for keeping me updated every step of the way. I'll check back in with you when I need another toy!"
Francis B.
---
"Adam, I wanted to thank you for the professionalism I experienced during the entire process of buying a car from you recently. From the start, you were responsive to my e-mails and phone calls, creating a great first impression. When I subsequently visited your dealership, I appreciated the manner in which you handled my interest - which ultimately evolved into what became my latest purchase of a beautiful Italian coachwork car. You were honest, patient and gave me the necessary space to decide on my purchase - without any of the all-too-common high-pressure sales techniques. I would highly recommend you and your dealership to anyone desiring a pleasant and honest experience from a knowledgeable staff. You are a professional to be trusted. I look forward to watching your website in hopes my next purchase will come from Mohr Imports. Thanks so much,"
Scott M., Phoenix, AZ USA
---
"Adam, The car arrived on Sunday and we are just so thrilled! Bob will call you this week to thank you. The car is everything you said it was and more. I thank you for everything."
Kathy and Bob H., South Carolina, USA
---
"Hi Adam, Finally the Porsches arrived in Berlin. Everything is fine so far! Have a nice day and Cheers from Berlin."
Clemens S.
---
"Dear Adam, It is with extreme thanks that I send you this acknowledgement of the receipt of your e-mail. You are helping to keep Porsche history alive."
Alex F., Los Angeles, CA
---
"Hi Adam: Car finally got here, around 5:30, looks great!!! I really enjoyed working with you, you have an excellent shop, I think probably one of the best places I have ever dealt with, & I have dealt with a lot of places."
Bob S., Roseville, CA
---
"I bought my 1986 911 from them. PPI turned out great, car has been flawless for six years now. I'd go back to Mohr as well."
Al (Pelican Parts)
---
"I bought my 1978 sc from mohr three or four years ago and drove it back from monterey to toronto. This was a cheap, high mileage car, but it was exactly as described and i would deal with mohr again without hesitation."
Dan Proudfoot
---
Mohr Imports is a 1st class outfit."
Sergio (Pelican Parts)
---
"Hello Adam, I received the vehicle title in yesterdays' mail; all in order. Thank you for your good service."
Troy M., Naples, FL USA
---
"Hello Adam, I'm very happy with the condition the car is in and it fully matched your description. It is a pleasure to drive and the German TUV could not find anything wrong with it. The whole transaction with you went very well and I would certainly do business with you again, so I keep looking at your inventory . . . Thanks again for your cooperation, I will recommend you to anyone interested in buying a Porsche from USA. Best Regards,"
Holger W., Hamburg, Germany
---
"I found the car listed on eBay and dismissed it because it looked more show quality than the driver I was looking for. But after reviewing the amazing pictures that Adam had attached, I called and made arrangements to review the car. It is exactly what I was looking for. The purchase, title transaction and shipping were all handled with professionalism and courtesy - the best car buying experience I've had. Thanks Adam and we love our 1962 Corvette."
Dave, Peachtree City, Georgia, USA
---
"Adam, Thanks again for the smooth transaction last year. I bought an 88 Carrera cab from you. The car is a solid one, and although I was hesitant to buy one site unseen, an honest review of the car was appreciated. It's not perfect, but it is what you explained over the phone and what I expected, and I'm happy with it. Keep up the good work . . . and keep sending these emails to me. They're fun to see what you're selling."
Pat B., Chicago, Illinois, USA
---
"Dear Mohr Imports, I wanted to let you know the car arrived Monday night in good shape and no problems. It was a pleasure doing business with you."
Kent A., Arkansas, USA
---
"Mohr Imports, I want to thank you for such an amazing car buying experience. I felt comfortable in every aspect of the process. Your enthusiasm for selling and owning these rare cars is contagious. Thanks again! "
Chris T., Monterey, CA, USA
---
"Hi Adam, I really appreciate your follow up and all your assistance with this sale and information, you've been great."
Robert M., Melbourne, Australia
---
"Mohr Imports - Thank your for all your help. The Rolls arrived on Friday around 1PM. I am very pleased with the car and will have the AC looked at next week."
Mike M., Arizona, USA
---
"Hi Adam, I was at a Porsche Club event with my 356 in Yorkville (Toronto) last weekend, and a plate frame caught my eye, you guessed it, I walked over and saw one of your cars there!"
Tony C., Mississauga, Ontario, Canada
---
"Delivery was quick, the car got to Buffalo (New York) Sunday night. I went to pick it up yesterday and, though I did not have a chance to drive it much, the car is nicer than it was in my dreams! Thanks again for all!"
Frank, Ontario, Canada
---
"Well just to let you know that the Porsche I bought from you in March finally cleared customs in Rotterdam this morning! I collected the car and drove it the 300 kilometers back across to Germany. The car is fantastic. Thank you very much. Regards from Germany!"
Paul, Iserlohn, Germany
---
"Hi Adam, Still happy with the Carrera 3,L Turbo look you sold me last year hence I adviced a friend of mine to buy this Porsche from you. I'll help him as far as shipping is concerned. Regards"
Frank, Belgium
---
"Dear Mohr Imports, I am so happy and I would like to confirm that the cars arrived safe in Switzerland. Everything is o.k. with the cars (sounds) and with all paperworks. I like to thank you very much again for your help and your effort and hope for business in future with you."
Christian F., Bern, Switzerland
---
"To Mohr Imports: I have to admit while searching for a new vehicle I was a little skeptical about buying a car over the internet especially sight unseen. The car was described as accurately as possible with many pictures to further your description, as well as an up to date Carfax report, and most of all it was priced right. Thanks again for a smooth, easy transaction. It's been a pleasure doing business with you. "
A. Fitzgerald, Colorado, USA
---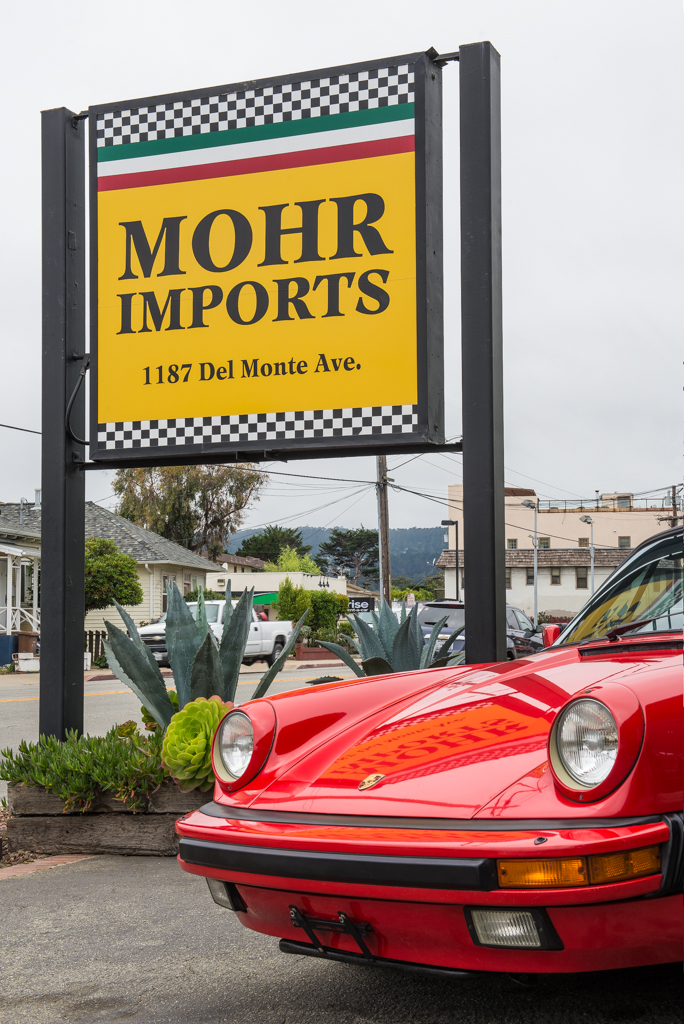 MONTEREY SHOWROOM
1187 Del Monte Ave.
Monterey, CA 93940
For Sale