Recently Added

This is a 1993 Porsche RS America converted to a full GT build by Rothsport

View Car

Featured Cars

Offered exclusively out of the Monterey Showroom is this authentic Continuation

View Car

Get Inventory Updates

Sign up today to receive our most updated cars inventory!
Mohr Cars, Mohr Results, Mohr Imports, Inc.
Broker for Buyers and Sellers
At Mohr Imports, transparency and personal attention are very important for us to provide to both our buyers and our sellers. We represent vehicles both on site at our showroom and warehouse in Monterey, CA and also make arrangements for off site consignments.
Inventory
We offer a wide range of cars from Ferrari to Ford, Porche to Pugot - and have seen it all over the last 35 years. Our website is always current, but know that vehicles that are being offered to us will not always appear on our inventory pages. Contact us if you are looking for something not currently listed.
Consignment
We have been in the sales and brokerage business since 1984. We are one phone call away to answer any of your questions.
Other Services
We offer storage services for both long and short term in our warehouse which is centrally located in Monterey. Also, we offer detail services to the public for your personal or collector vehicles.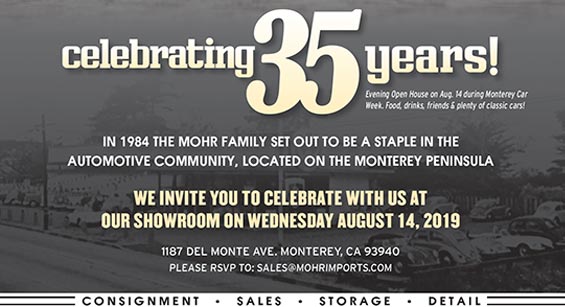 Showroom Hours
Monday to Friday
9:30am to 5pm
Saturday and Sunday
by appointment