1993 Porsche RS America GT
---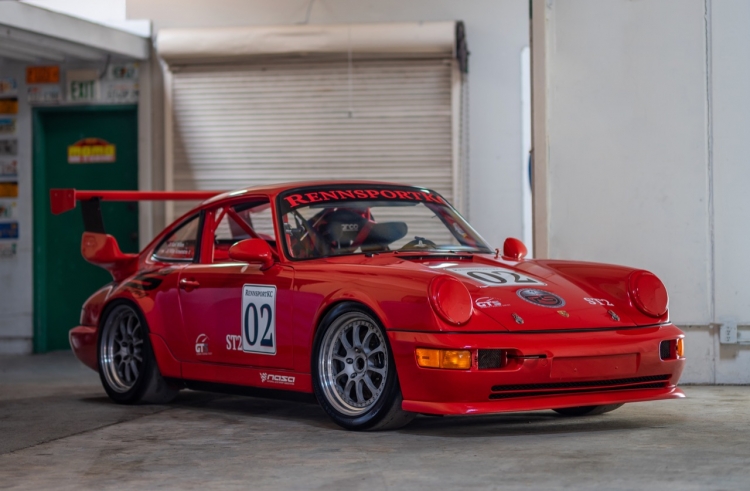 Vehicle Overview
This is a 1993 Porsche RS America converted to a full GT build by Rothsport.

Our Subject Car
This RS America was the 363rd of 724 built by the Porsche factory. This car was purchased out of Utah in the winter of 2010. When purchased it was a stock, all original RS America with 39k miles before going to Rothsport's to be built as a full GT race car.
Exterior
Sunroof was removed and replaced with a 911 skin. Front hood is made of composite with race latches. Rear deck lid is a Getty RSR composite spoiler with adjustable GT3RD wing. Both doors are Getty composite race doors, with no side windows. Front, rear and rear ¼ windows are Lexan. All bumper support structures were removed, rear bumper is a custom Getty to receive the custom exhaust. Front bumper air inlets to the dual oil coolers and front brake calipers. Getty front dam.
Engine
Custom intake plenum by Rothsport (modified GT3 plenum, reversed), Jenvey 46mm ITBs, injectors and custom Rothsport billet linkage. Heads ported and polished, 993 valves, titanium springs/retainers. Elgin custom grind cams, as hot as they can possibly be. ARP rod bolts, new bearings and rings. Motec M84 engine management. Custom stainless stepped headers, vortex collector into custom GT3 Cup style muffler and exhaust outlet. System One oil filter, RS mounts on reinforced carrier. The engine is amazing and sounds better than most anything on the track. 335 brake HP, 281 torque – out of this world throttle response.
Bradd Penn Racing oil, 20/50 (Late Spring/Summer) 15/40 (Fall). Drain & changes are done every other event or after every race. The enture system holds about 13 quarts. System One oil filter changed every second or third race with brake cleaner reinstall. Fuel cell installed summer 2017.
Only use 104 racing fuel unleaded. Is the car sits, then the car has Stabil added. Mobil Delvac 75/90 gear oil only and it needs a full gallon per change. Two changes a year unless race, then every other weekend. Endless RF-650 brake fluid used.The car weighs 2300 lbs, with fluids and fuel.
Transmission
Garmroth built, short ration 5-speed (1.04 fifth), Guard 40/60 LSD, all Guard gears and steel syncros. 5.5" Tilton 3 plate clutch with matching flywheel, hydraulic annular throw-out bearing (quick disconnect on likes, bleed line mounted in engine bay for very easy service). Rothsport billet shifter with Goldenron linkage. Fitting installed for transmission cooler and pump.
Brakes
Front big black calipers over AP floating racing rotors and aluminum hats, rear and 964 front calipers over 964 RS rotors. Tilton adj brake bias valve (lever type) installed in front trunk. Pagid RS-29 both front and rears. Tires: Hoosier R6/A6: 245/40-18 and 275/35-18
Steering
997 Cup electric steering pump mounted in front trunk.
Drivetrain
996 EVO front wheel carriers, Tarrett adjustable drop links. MCS clubsport, two was adjustable gas filled dampers. HR sway bars. Full on ERP monoball suspension, 600# f and 800# r springs, all cornered balanced.
Interior
Interior professionally stripped and painted. Full racing cage built and installed by Rothsport. Original upper dash remains, Autometer tachometer and shift lamp internal electrical battery disconnect, switch mounted for transmission cooler, ABS disconnect (push to kill) mounted, electric fire suppression and bottle (nozzles to driver ad engine bay). Sparco Pro-Adv seat on sliders, Schroth 6-point harness. 986 coolsuit cooler mounted in front trunk w/lines to driver – control on console. Momo Mod 17" wheel on Rothsport release.
A turn key, track ready, no expense spared, professionally built GT car that is appropriate for numerous race categories and competitions.
All inspections welcome. We ship worldwide.
Contact us at 831.373.3131 day or evening.
Car Sold
VIN:
WP0AB2962PS419127
Condition:
Clear Title
Transmission:
Manual
Exterior Color:
Guards Red
Stock No:
0
Mileage:
49647
Warranty:
No Warranty
---
Inquire
Apply for Financing
View Other Cars